Giant Squid Washes up On Spit
Posted by Farewell Spit Tours on 31 July 2019
Tags:
giant squid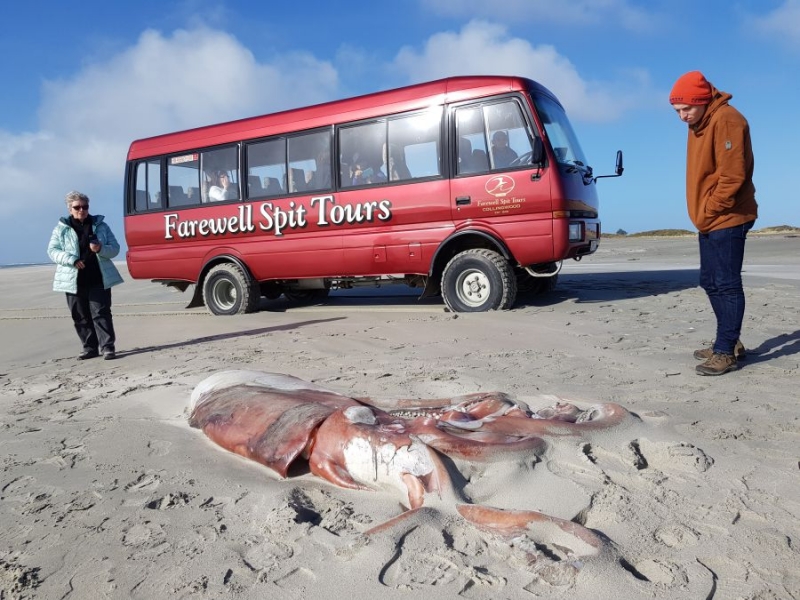 This article was printed in the GB Weekly on 19 July 2019
Written by Jo Richards
A bus load of Farewell Spit eco-tourists were treated to an unexpected bonus on Saturday - a giant squid.
Eagle-eyed manager Paddy Gillooly was guiding a group of around a dozen tourists along Farewell Spit, when he spotted the five-and-a-half metre-long invertebrate stranded on the sand. "We came across it out on the ocean beach of the Spit near the far end."
Paddy, who has been taking tours on the Spit for 30 years, knew what he was looking at. "I have seen six or seven of these over the years all around the same length, 5-6 metres."
While squid are common, they are seldom seen at the surface - at least during the day. At night, however, they ascend from their deep water habitat to the surface where they feed on fish and plankton before sinking back down to the depths. This normally unseen nocturnal mass movement is in fact the world's largest animal migration. 
Paddy says it remains a mystery as to how these giant creatures end up on the Spit, but those that do get washed up create quite a stir. "Not sure why they come up but they certainly cause jaws to drop on the tour bus when they do."