The Three Rosas
Posted by Farewell Spit Tours on 23 August 2017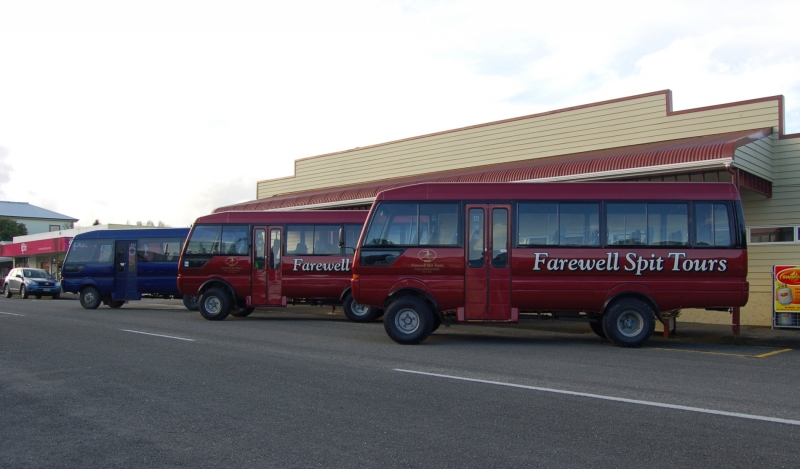 If you've been out with us on the Spit you will have been on one of our buses. 
You can't miss Spit 1 and Spit 2 - they're both red, with our signage down the sides. And they have been with us a while now. You'll often see them parked in the main street of Collingwood, waiting to take a load of people out for the day. These 4 cylinder Mitsubishi Rosa coaches are ideal for the job, being very comfortable and easy to ride in, while rugged enough to endure the very harsh conditions out on the spit.
Spit 1 (aka Dart) arrived with us from the Dart River Wilderness company in Queenstown two years ago, and has been plodding up and down the long spit beach ever since. Spit 2 (aka Aurora) is just finishing her first year on the beach run. Both buses had a huge overhaul and restoration before starting the run up the spit, ensuring a good safe ride without too much discomfort. Air conditioning and/or heating make for a much better ride than the old vehicles we used to use.The naming of these buses actually has nothing to do with where they came from, but are named for early sailing vessels that traversed Tasman Bay and, in particular, came across to Collingwood. 
And now we have Rosa the third. She still has her previous blue paint job, but that will change. Also from Dart River, she will have the same comprehensive makeover her sisters had before hitting the beach. Then she should be ready for the coming summer season. And she'll have a new name soon, while also adding a Spit 3 number plate to the fleet.