The Gannets at the End of the Spit
Posted by Sue Farley on 4 November 2016
Tags:
farewell spit
Australasian gannets
Eco Tours New Zealand
Bird Watching New Zealand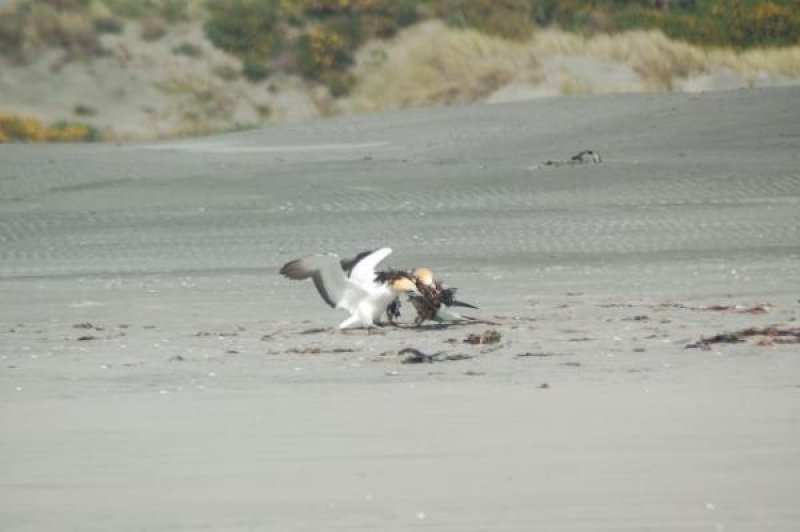 Summer is gannet season on Farewell Spit. The Australasian gannet colony, at the far seaward tip of the spit, is New Zealand's only gannet colony at sea level (or almost) - it's just a few metres above the average high tide mark. 
As gannets usually choose rocky, remote outcrops to raise their young, this site offers an excellent opportunity to view the gannet families up close and right at home. They fly in each year around September and spend the next few months gathering material for their nests, which they build on the low-lying shell banks. They also revisit with their annual mate, as Australasian gannets (takapu) may have the same partner for several seasons or even throughout their entire lives, with both parents sharing time on the nest. The eggs hatch about six weeks after laying and the young are ready to fly away four months later.
These gannets only began nesting on Farewell Spit in 1982, when 60 pairs arrived for the summer. Their numbers now average between 7000 and 9000 birds each year, with most of them nesting in the main colony, except a few non-conformists who nest further out in the sand dune areas. Nesting at sea level sounds easy, but can be hazardous in big spring tides and unusually big storm swells. A storm in 1997 washed many of the young birds away, but the adults returned again the following year and the colony has remained strong.
A recent study, done in collaboration with DOC and the Nelson Ornithological Society, looked at how the gannets feed. The research revealed that these Australasian gannets were able to forage for particular foods, depending on their nutritional needs, rather than just eating what was most plentiful or easiest to find. These findings had not been observed in any wild predator before, so are a significant step forward in understanding natural predatory feeding behaviour.
New Zealand has 87% of the world's Australasian gannets, with the remaining 13% in southern Australia and Tasmania. They are amazingly powerful birds in flight and hunt from the air, diving straight down to pierce whatever they see beneath the water. 
The Gannet Colony Tour runs from around September to April, depending on the birds' arrival and departure. We drive along the beach from the entry point at the base of the spit, to around 2 kms beyond the lighthouse. It's a 20 minute walk to the main colony from there. The gannets are not worried about our presence and are, in fact, quite curious about us.  The tour then returns to the lighthouse for refreshments and a break, before continuing back to base in Collingwood. The Gannet Colony Tour is limited to 20 people per day so it is important to book in advance.